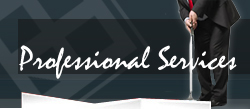 Business Plan Formulation
A business plan is necessary in all stages of a business--it is your blueprint for success.  It sets down your goals for the business, assists in analyzing the feasibility of new ventures, explores the expansion of an existing business, defines your customers and competitors, and points out your strengths and weaknesses.  It also details your plans for the future. Usually when raising a fund, potential investors firstly need to look at a detailed business plan and related documents before taking any further actions.  Therefore, a business plan that produces strong conclusions regarding the feasibility of developing the business and assesses the safety of the business for lenders is a good start during the whole process of fund raising.
With good understanding about the investors' main concerns and interests, we have advisory team to help you develop excellent business plans on investment projects for the purposes of equity financing, merger and acquisition, joint venture negotiation and project loan.
Please send email to info@royalassets-capital.com if you have any enquiry about this topic.  Our professionals will reply to you as soon as possible.